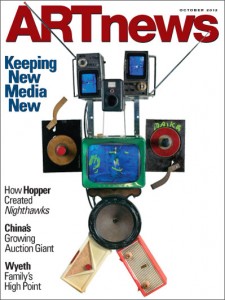 I was quoted in the October 2013 cover story for ArtNews about the challenges of preserving new media art – and the danger to art history if we don't.
Artists began working with new media in large numbers about when the Web hit the mainstream, in the mid 1990's, but as museums grapple with how to preserve art made of bits instead of atoms, that first (and even second) generation of new media artworks are in peril of technologically obsolescing into the void. Is there hope? In a word; yes.
Collecting and preserving new media art is a focus of my research and I'm currently in the final stages of publishing a book on the subject – Re-Collection: Art, New Media, & Social Memory – together with collaborator and co-conspirator Jon Ippolito of the University of Maine.
Oops; my editor might see me posting this when I should be proofing chapters – back to the grindstone.