Let's take a trip to the beaches of France to meet our competitors!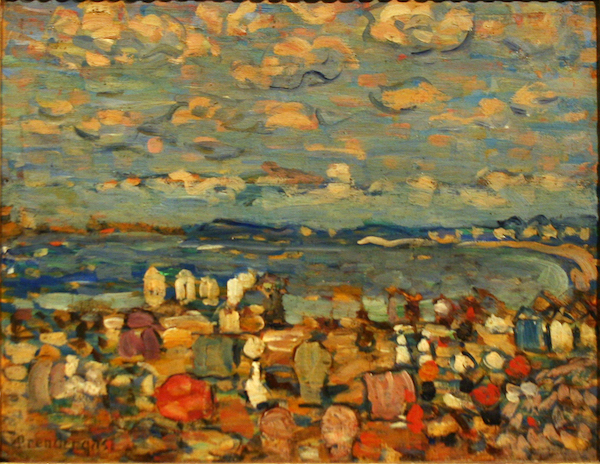 Maurice Prendergast
Crescent Beach, St. Malo, 1907-1910
Oil on panel
Gift of Ellen Clarke Bertrand
Samek Art Museum Collection,
1960.1.3
Maurice Prendergast was an American painter and Post-Impressionist. He started his art career working under a commercial artist in Boston, but soon drew inspiration from a number of other artists, including French Impressionists and other American Post-Impressionists. His work is characterized by flat dabs of jewel-like colors, coming together almost like a mosaic. He frequently painted parks and beaches, and this painting features one of his favorite subjects, St. Malo Beach in France. An avid swimmer, Prendergast spent two months there in the summer of 1907 and painted the scene again and again. The Samek Art Museum actually owns two paintings by Prendergast–the other features a Paris Omnibus.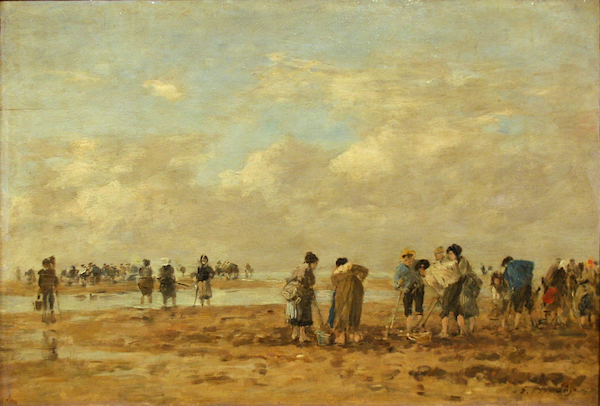 Eugene Boudin
Pecheuses d'Equilles, Berck, c1844-1898
Oil on panel
Gift of Ellen Clarke Bertrand
Samek Art Museum Collection,
1960.1.24
Eugene Boudin was a French landscape painter, and is said to be one of the first who painted outdoors. Previously, most landscape painters would make sketches and preparatory drawings outside, but would retreat to their studio to complete the painting. Boudin painted many beach and harbor scenes in his native France. He befriended many other renowned French Impressionists, including Claude Monet, who became a lifelong friend. Another French painter Camille Corot, who is himself well-regarded for his landscape paintings that paved the way for the Impressionist style, referred to Boudin as "King of the skies." Boudin's work often has a lower horizon line, offering an expansive view of the clouds and sky in his landscape paintings.
And the Winner is Crescent Beach, St. Malo!