So you might remember a while back our Registrar & Exhibition Manager, Theresa Engelbrecht, thought she found an original engraving by artist Albrecht Dürer in our collection! Disappointingly, the work turned out to be a reproduction. Here's how we found out!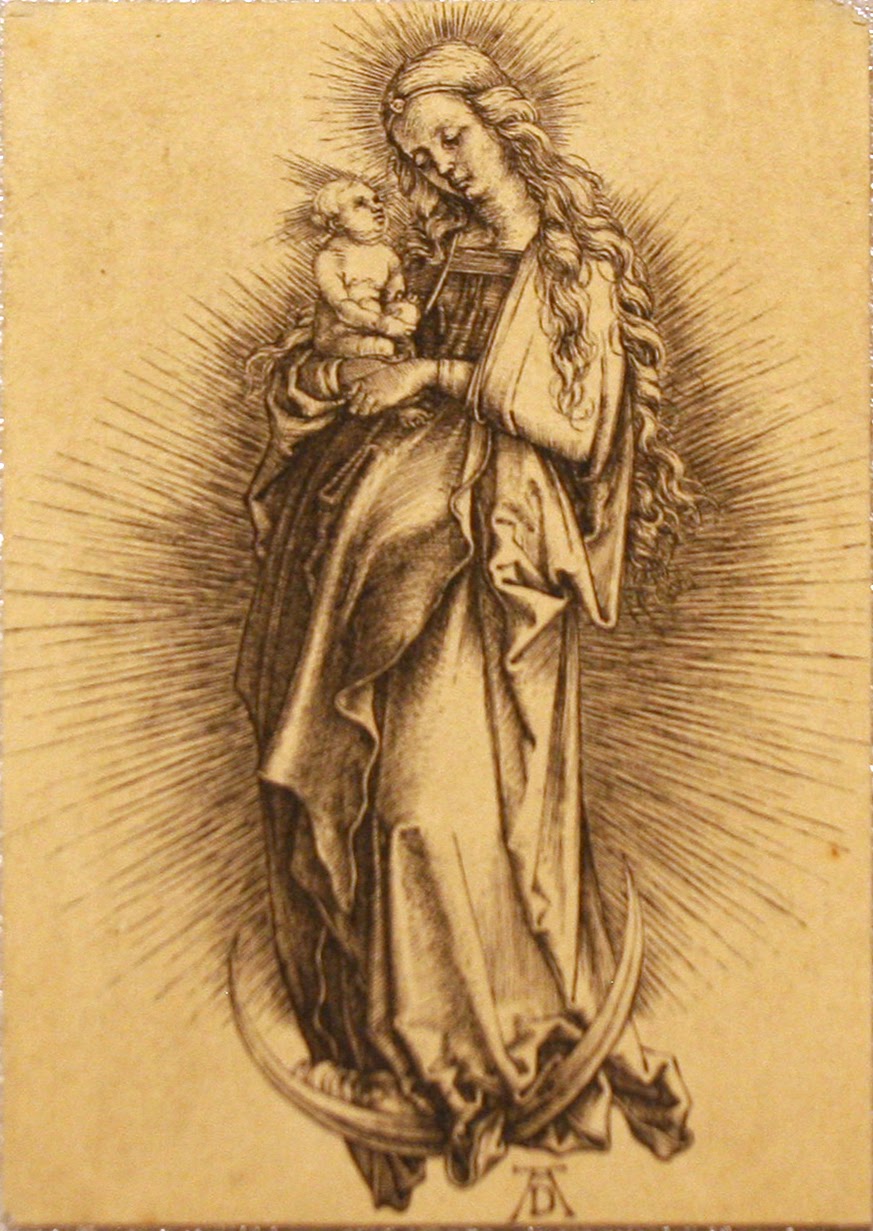 First, Theresa contacted one of Bucknell's Professors of Art History, Dr. Christiane Andersson. Dr. Andersson brought a monocular that allowed her to view the print in minute detail. Dürer's original print is an engraving – a method of printmaking in which the artist takes a small, handheld tool, called a burin, to cut a line into a flat piece of metal, usually copper. The Met has a great resource for understanding this type of printmaking: https://www.metmuseum.org/about-the-met/curatorial-departments/drawings-and-prints/materials-and-techniques/printmaking/engraving
When viewed up close, engraved lines are steady with crisp edges, any typically end in a "point," a result of the V-shaped tool used to cut into the copper. Engraved lines look like this under magnification: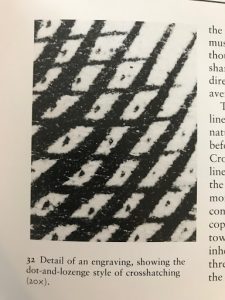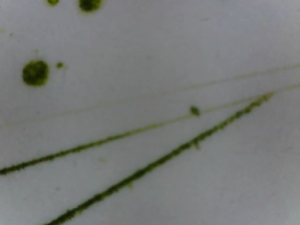 When we looked at the Dürer print in such minute detail, we saw some telltale signs that it was not an engraving. Under magnification, the print looks like this:
In contrast to the crisp-edged and inky lines of an engraving, these lines are soft around the edges, have blunt instead of V-shaped ends, and some of the black seems to have "run out" resulting in dark gray lines – an effect not seen in engravings.
This led Dr. Andersson to conclude that the print is a reproduction of Dürer's print, likely made so that scholars could study the image if they could not gain access to an original. Its size and content are identical, but the lack of quality and detail betray the truth.
Image Captions:
First image:
Reproduction of Albrecht Dürer, Virgin and Child on a Crescent Moon, n.d.
Photo ©Samek Art Museum
Second Image:
Image 32 from Bamber Gascoigne's How to Identify Prints (London: Thames & Hudson, 2014), 9a.
Third and Fourth Images:
Detail from Terry Haass, Song of Myself, from Excerpts from Walt Whitman's Leaves of Grass interpreted with seven original color engravings by Terry Haass (New York: Associated American Artists, 1966).
Photos courtesy of the author.
Fifth and Sixth images:
Details from the reproduction of Albrecht Dürer, Virgin and Child on a Crescent Moon, n.d.
Photos ©Samek Art Museum