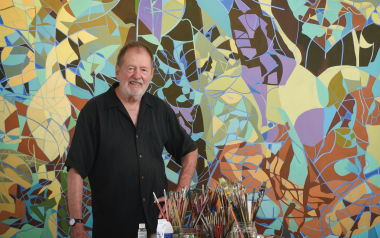 The Samek Art Museum is saddened to hear about the passing of Neil Anderson.
Neil was employed for forty years at Bucknell University in the Department of Art and Art History, teaching many students who continued to study art and work professionally in art fields. Since retiring in 1999, he painted full-time in his studio attached to his home on a wooded lot three miles from Lewisburg.
In fall 2020, Neil had an exhibition at the Samek's Downtown Gallery, Neil Anderson: Earth Songs. Each of the abstract paintings is a "song" that celebrates the earth. They were begun simply, without a final plan, and improvised until the relationship between parts (like our own relationship with the earth) becomes complex and interdependent.
He is survived by his wife, Constance A. Timm, and three sons from a previous marriage to Pauline Greene (Santa Monica, CA); Eric Anderson (Los Angeles, CA), Benjamin Anderson (Barrington RI), Joel Anderson (Santa Monica, CA) as well as three grandchildren: Lilah Esther Anderson, (Des Moines, IA), Seaver Ander son, (Barrington, RI) and Anthony Anderson (Los Angeles, CA).