Here is a short story that Bucknell student TJ Freeman '25 wrote in response to his visit to the Samek Art Museum with Michael Drexler's first-year Fiction! class. Thank you for sharing your story, TJ.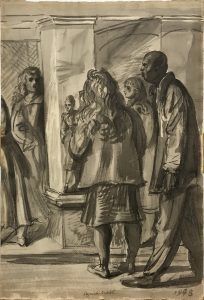 Girl in the Glass
Marsh Lane, the tiny street between Esther Road and Jacob Drive, almost never saw anyone on its pavement. The street led nowhere, quite frankly, so there was little point in crossing it. Throughout most of the week, it laid barren and empty, not a single footstep echoing off the walls of the likewise abandoned buildings enclosing it. However, on Saturday, when the sun shined highest in the sky, Marsh Lane would undergo a brief transformation, and people would flock toward it.
Spotless, hollow glass pillars would line both sides of the street. Who knew who was responsible for them? There were figures who set them out every week, but their identities and superiors were unknown. The people who visited the street called them the Proctors. Some whispered amongst themselves, wondering who they worked for.
Hutch didn't concern himself with such questions. He didn't care who the Proctors were. He only cared about the pillars.
He plodded along, taking the occasional glance toward a pillar, but not so often that he might accidentally connect gazes with another spectator. Marsh Lane was frequently filled with white women, and many of them didn't appreciate it when people like Hutch strolled down this road. Not only a man, but a black one, at that. Usually, however, they were too focused on their window-shopping to take notice of him, so long as he didn't make a scene.
Each transparent column encapsulated a young girl, none of them over the age of ten, at most. They wore identically prim dresses of varying colors and a pair of black tap shoes. Each girl's hair appeared similarly long, but no two had the same style. One girl had her blonde hair up in a bun, while another had hers braided into pigtails.
The space inside the pillars gave the girls just enough room to jump and dance, and dance they did, tapping their feet against the bottom of their containers. How sore their feet must get after dancing for so long without stopping. Yet, each dancer's face was blank, professional. Hutch wondered if there was something behind their closed faces, an emotion that was kept at bay, but he'd never been close enough to one to tell. He hoped they were treated well after the street closed and they were released from their containers. God knew what he would do if he ever discovered otherwise.
Three or four visitors gathered around each glass pillar, appraising the dancer inside with smiles and nods. Most spectators were dressed less elegantly than the girls, but still cleaner than Hutch. He recognized a few of them from the run-down apartment complex he stayed at. Hutch's former wife had been surprised when he'd brought her here for the first time; she had expected more rich folk.
But this wasn't a place for the overly wealthy, for they seldom had a reason to be here. Most came to watch the girls dance, as they all had fantastic senses of rhythm and lovely, distinct routines. Others came with a more hopeful and sorrowful desire.
A woman approached one of the Proctors standing in the center of the street. She was young. Past her prime, yes, but still young. She stood straight and tall. Her dress was a bit more fashionable than the other women.
She politely asked the Proctor if she could take one of the girls home for good.
The Proctor shook her head and refused.
The woman narrowed her eyes and insisted that she take one of the girls home.
The Proctor again calmly refused.
The interaction drew the attention of a few others besides Hutch. Hutch wondered if the woman would let frustration get the better of her. He'd seen it happen before with others who believed themselves more deserving than they were. The result was always less than pleasant, involving much screaming and complaining, but, surprisingly, the Proctors never let their composure slip during such complications. They would simply request that the spectator take their leave, and if they did not, the Proctors would withdraw the glass pillars for the week.
But this woman stayed mature, fortunately, smoothing out her dress and giving a firm nod before turning on her heel and exiting the street. Hutch realized he was holding his breath and let it out slowly.
"Excuse me, sir."
Another woman behind Hutch was approaching another Proctor. The voice wasn't far. Hutch walked a little faster to move out of the way and avoided looking over his shoulder. Best if he wasn't in everyone's line of sight for too long.
"Sir."
The voice hadn't moved any further away. Hutch heard footsteps behind him. That woman wasn't talking to a Proctor.
Hutch broke into a run.
"Sir!"
Hutch sprinted down Marsh Lane as fast as he could manage. Heads whipped toward him as he passed, glaring at him with disgusted faces. Hutch cast his eyes down, but he still felt their stares all over his body. He felt heat rise up his neck and in his chest. Hundreds of tiny needles pricked every section of his spine.
He exited the street and turned down Esther Road, refusing to slow down until he was certain he wasn't being chased.
As he continued to run, the sounds of his shoes hitting the pavement sounded quieter. The light from the sky didn't appear to shine as brightly.
Hutch automatically navigated himself toward his apartment. After all, he had nowhere else to go. He stumbled to a stop in front of the door and rested his hands on his knees. Breathing heavily, he took a glance back where he'd come from and saw nothing out of the ordinary. None of the people walking by seemed particularly interested in him.
He moved inside the building and entered his dark and barren apartment, the door creaking loudly as it opened and shut.
A small pair of tap shoes rested on the table. Hutch picked them up for a moment to dust them off, then set them back.
The rest of Hutch's week, as with every other week, was a blur. He scraped by with his earnings from his job as a laborer. He ate small meals throughout the day. His body moved on its own, his mind disconnected. He rarely talked to anyone, and when he did, he couldn't recall the words spoken not even an hour later.
When Saturday at last rolled back around, his mind snapped back into reality, and he returned to Marsh Lane.
He usually arrived before the Proctors began setting out the girls, but Hutch thought it would be better to show up later than normal after what had happened. It would be easier to blend in after a significant crowd of people had already made an appearance.
The girls in the glass pillars were the same as the ones from the previous week, and the week before that. It had been a while since a girl had gone home with someone.
Two middle-aged women passed Hutch on the street. Hutch allowed his eyes to follow them. The one in front, wearing a thick skirt and a wool jacket, particularly intrigued him. Her nose was wrinkled, her lower lip trembling. Hutch scanned her path and found that, sure enough, she was walking up to a Proctor, who, it appeared, was already waiting for her.
The woman slowly asked if she could take a child home.
Just barely after the woman had emitted the last word from her mouth, the Proctor said, "Of course, ma'am. Please make your selection, and I will retrieve her for you."
The woman immediately broke down into tears, throwing her arms around the Proctor and thanking him dearly. The Proctor stood still and casually returned the embrace.
Hutch wanted to smile, but something else held down the corners of his mouth. A feeling of bittersweetness took hold of him.
Another Proctor suddenly stepped directly in front of Hutch.
"Hello, sir?"
Hutch's legs tensed as he reflexively leaned away.
"I tried to catch your attention last week, but you ran off," the Proctor said.
"Ah," Hutch said. "That was you." He hadn't thought it had been a Proctor.
The Proctor nodded. Hutch avoided looking her in the eye.
"I apologize," Hutch mumbled. "I . . . I was not . . ."
"You don't think you belong here, do you?" the Proctor asked.
Hutch stiffened. "I . . . no." He turned his head further away. "No, I don't."
The Proctor hummed to herself. "Sir, would you like to take a girl home?"
Hutch almost looked at her. "What?"
"Doubtless you believe that you've managed to stay unnoticed for all this time, but we've seen you," the Proctor said. "We've seen you since nearly two years ago, when you started coming here. We've seen that you've never missed a week, and that you've never approached one of us, though we've all been waiting for it. You merely carry on, almost as if torturing yourself, then do it again the following week. I could hardly take it anymore, even if taking action into my own hands might have made my superiors upset with me.
"Never approached . . ." Hutch repeated. "You mean . . . you would have accepted?"
"Of course. You must know, after coming here for so long, what it is we do and who we do it for. So, would you like to take a girl home for good? I know one that would be just fine with you."
Hutch could hardly speak.
"Come with me," The Proctor said.
She walked with even, almost rhythmic steps toward one of the glass pillars. Hutch followed her against his better judgment, walking as if in a trance. As they approached, the Proctor gracefully swished her hand in a shooing motion at the women surrounding the dancing girl. The women began to back away, but froze at the sight of Hutch. Their expressions became angry, some disgusted. One tried to protest, opening her mouth, but the Proctor swiftly held up a hand and glared coldly. The woman shut her mouth with a snort and shuffled backward.
The Proctor clapped her hands twice before the column, and the girl inside promptly stopped dancing, stood up straight, and curtseyed to Hutch, who watched in awe.
"Well?" the Proctor asked. "Should I release her?"
Hutch took a tender step forward to the girl. She remained in a shallow bow with her hands on her skirt, one foot back, head down.
"Can she look at me?" Hutch asked.
The Proctor clapped once. The girl immediately raised her head and smiled at Hutch. He had never seen any of the girl's faces up close before. Finally, he could see for himself how one of them felt.
And what he saw filled him with solace.
This girl was not playing a role for the Proctors, nor for her audience. She was not pretending. Hutch had seen her expression thousands of times on someone else's face. It wasn't a look of hope, pleading, or desperation, merely pure, genuine joy. She wasn't in danger. She was happy. Healthy, too. Her skin was full of color and life, her arms and legs were strong and round, and her eyes were bright like beautiful sapphires.
Hutch breathed a heavy sigh of relief, but he soon felt a weight over him as he realized the problem.
The girl was comfortable with the Proctors. She ate well, slept well, and was treated well.
Hutch felt the stares of the women behind him. He heard their whispers as they commented on his skin and the state of his clothes. He looked down at his thin, dirty hands.
Hutch stepped back from the pillar. Then he smiled faintly and turned to the Proctor.
"Thank you," he said, "but I will not be taking anyone home today."
The Proctor raised her eyebrows slightly, then nodded. "If you ever change your mind, the option will be open to you. And remember, you are always welcome here." It seemed for a moment that she was also smiling.
The girl behind the glass grinned as well before resuming her dance. Hutch continued to move away just enough to allow the women to stand in their prior positions, but he lingered for a few minutes to watch the girl dance some more. Her movements were delightful. As he saw them up close, fond memories surfaced from the depths of his mind. Hutch wiped his eyes as they began to tear.
His daughter had loved to dance.
Reginald Marsh
Untitled (Street Scene), 1948
Ink wash on paper
Gift of Dr. Eugene L. Gaier, in memory of my parents Esther and Jacob Gaier
Samek Art Museum Collection, 2020.3.12