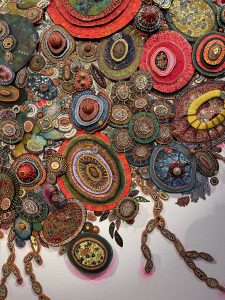 About:
The biomorphic art of Amie Esslinger draws the viewer into a miniature world of images that evoke microbes, cells, and viruses. Esslinger's artistic process mimics the planned chaos of organic processes and takes the form of abstract, richly layered assemblages crafted from diverse materials, including felt, eyelashes, burnt elk leather, glitter, resin, and more.
Related Events:
Expanding Inward: How art and science Intersect
Tuesday, September 20, 7 p.m.
Iron Front Event Space
434 Market St #301, Lewisburg, PA 17837
Amie Esslinger, Expanding Inward exhibition artist, will speak about how the world of microbiology inspires her artwork alongside Bucknell University Professor of Biology Marie C. Pizzorno, who will explain the science behind how cells and viruses function within our bodies. A reception will follow next door at the Samek's Downtown Gallery.
**Please check back regularly for updates.