Saturday, Feb. 2nd 11am-2pm @ Hufnagle Park: Heart of Lewisburg Ice Festival, Paint w/ Ice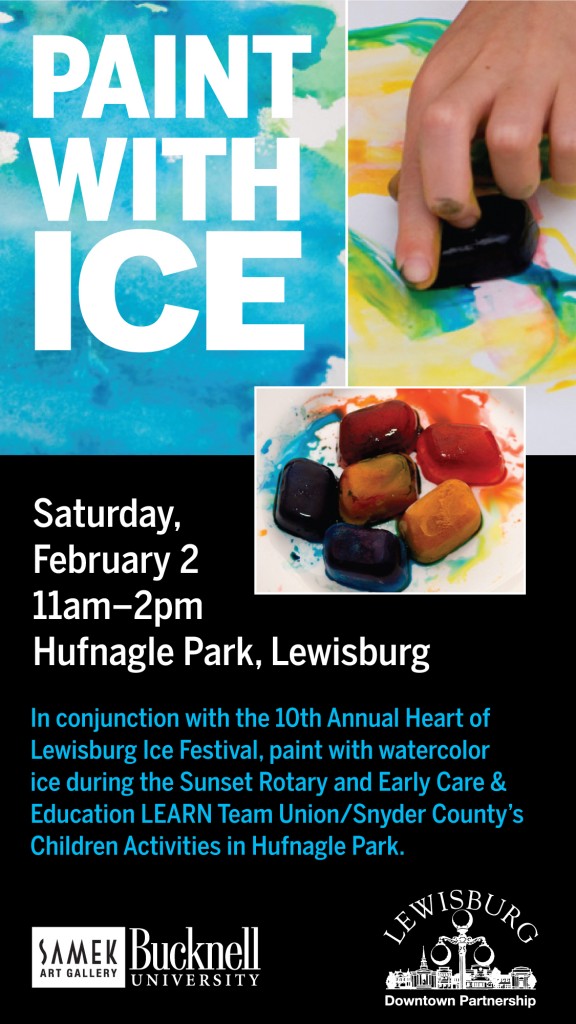 Chilly weather and winter snow can mean only one thing for Downtown Lewisburg: The 10th Annual Heart of Lewisburg Ice Festival. The Downtown Art Gallery, located at 416 Market Street, is excited to announce their participation in Saturday afternoon's children's games in Hufnagle Park, sponsored by Sunset Rotary and Early Care & Education LEARN Team Union/Snyder County.
In honor of the Ice Festival, the gallery will offer free ice painting stations in the park. This family-friendly activity allows children (or the kid at heart in adults) to paint with frozen blocks of colored ice. Each ice painting table will provide aprons, paper, and colored ice cubes for each participant to enjoy. Gallery staff and volunteers from the Gallery Engagement Team at Bucknell University, will assist individuals during their experience!
While you are downtown enjoying other Ice Festival activities, such as the Chili Cook-off sponsored by the Lewisburg Sunset Rotary, Yuengling, and Puirseil's Irish Pub, or the Polar Bear Plunge, make sure to stop in the Downtown Art Gallery! The gallery will be open from 12:00pm-5:00pm on Saturday featuring the work of Bucknell's Associate Professor of Art, Anna Kell in her latest exhibition Pentimenti.