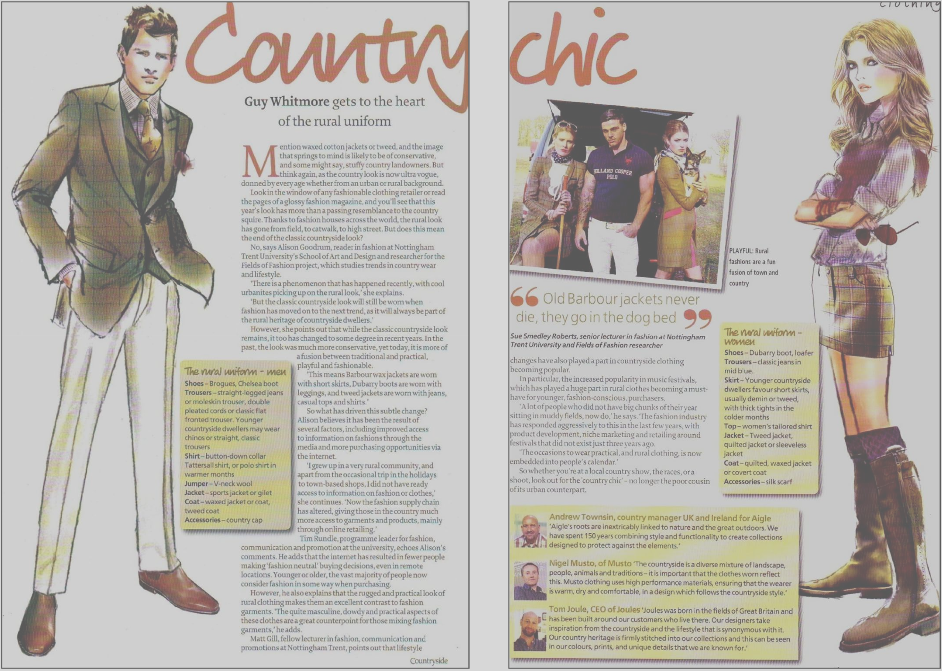 October 23, 6pm
Gallery Theater, 3rd Floor Elaine Langone Center
Samek Art Museum Director Richard Rinehart will be in conversation with Dr. Alison Goodrum, Professor of Apparel at Manchester Metropolitan University on the occasion of the Samek's Country Living exhibition. Richard Rinehart will discuss his curatorial approach to the exhibition in connection with Dr. Goodrum's research on rural fashion and visual culture. A reception at the Samek Gallery follows the talk.
About Alison Goodrum
Alison was appointed as Professor of Apparel, Hollings Faculty, MMU in summer 2013.  She has held research and teaching posts at the University of Auckland and Nottingham Trent University.  Having trained initially as a cultural geographer, her approach to the study of clothing is interdisciplinary and borrows from fashion theory, cultural studies, dress history and sociology.
Alison gained her PhD on constructing, and constructions of, 'Britishness' in/through contemporary fashion in 2001 and her book The National Fabric (Berg, 2005) elaborates the theme.  Latterly, Alison has developed her long held interest in British rural clothing, establishing and leading the 'Fields of Fashion' project on contemporary rural lifestyle research.  Under the aegis of a John H Daniels fellowship (awarded 2011), she extended this interest, pursuing archive work on the history of rural sporting dress, occupational wear and the side-saddle habit.
Her most current writing explores the clothing worn by spectators at sporting events, focusing on American sportswear during the 1930s, equestrian events, the shirt dress and the designer, Elizabeth Hawes.  She was awarded a visiting fellowship (Nov 2013-Jan 2014) at the Bard Graduate Center to work on specialist museum holdings in the city of New York relating to the life and work of Hawes. More information on Goodrum here.