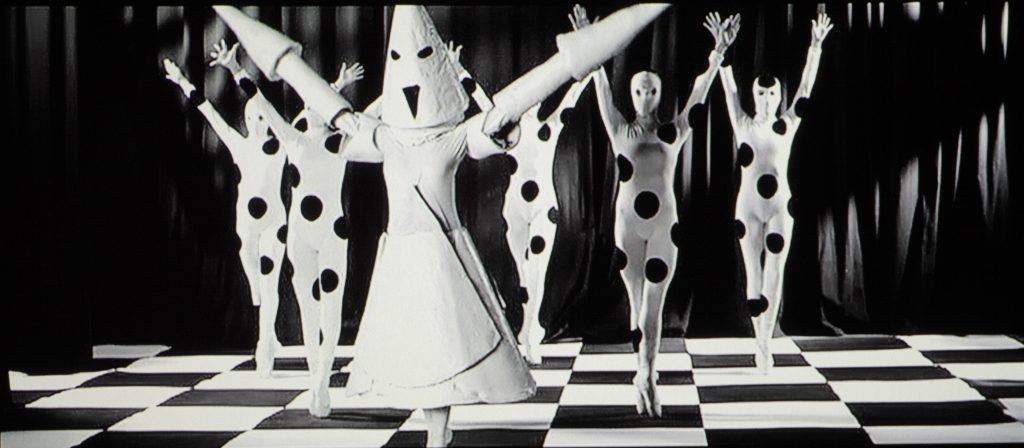 About:
This exhibition features international contemporary artists using photography and video to interrogate contemporary media culture. They ask what it means to be a photographer when everyone is an Instagram influencer; where does video art meet TikTok, and how to deliver social commentary in the age of the meme.
*** This exhibition is available as a Touring Fine Art Exhibition through Curatorial, Inc.
*** Please check back regularly for updates
Exhibited Works:
N. Dash (USA, b. 1980)
Untitled, 2012
photograph
15.5 x 19.5 in.

Dash, who often works with tactile adobe mud, raw pigment, and wool, harkens back to the sense of touch as foundational for art making. It is perhaps no coincidence that the recent rise of touchless ethereal media has been inverted by new interest in maker spaces, knitting circles, and handicraft techniques.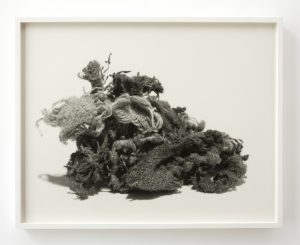 Nathalie Djurberg (Sweden, b. 1978)
Deceiving Looks, 2011
clay animation, digital video
5:58 min.
Music by Hans Berg

Djurburg's nostalgic use of claymation puts this video in the realm of children's TV. Like that historic media, the work contrasts visual playfulness with ethical subtexts. The surreal violence here seems an absurd but apt reflection of an era characterized by real social unrest contrasted with memes and deepfake videos.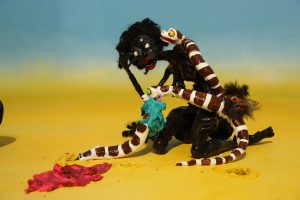 Marcel Dzama (Canada, b. 1974)
A Game of Chess, 2011
single-channel video
14:02 min.
© Marcel Dzama
Courtesy of the artist and David Zwirner

A Game of Chess references the history of surreal film from Fellini's mad parades to Bergman's The Seventh Seal in which the protagonist plays a game of chess against death. Today, chess remains a metaphor for the game of life, pitting free will against determinism, human against artificial intelligence.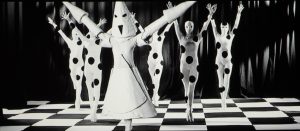 Erwin Olaf (Netherlands, b. 1959)
Paradise Portraits, Matt, 2002
digital color coupler print
29.5 x 22.25 in.

Far from the comedic jokers or black velvet clown paintings that served as kitsch for a previous generation, Matt is a glamorous, Instagrammable clown. Olaf uses crisp lines, saturated colors, and uncomfortably close focus to create an uncanny emotional dissonance between realism and surrealism.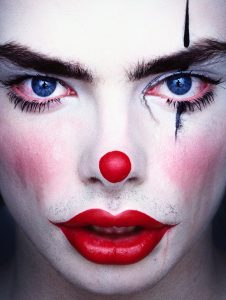 Christian Marclay (USA, b. 1955)
Telephones, 1995
single-channel video
7:30 min.

The ruins of the nineteenth century were abandoned castles; the ruins of the modern era are obsolete technologies. The nostalgia for classic Hollywood originally evoked in Telephones in 1995 has since become layered with nostalgia for its now-obsolete subject. Depicting a vast social network of phones through cinematic narrative, Telephones also seems oddly prophetic.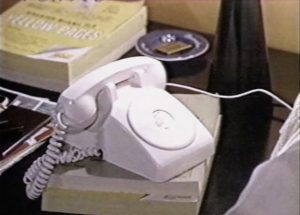 Peter Funch (Denmark, b. 1974)
Loving Lovers, from the series Babel Tales, 2006
photograph
23 x 50.75 in.

Each individual image may appear real, but repeating the same point of view and placement of figures while transforming individuals into homogeneous members of social tribes (smokers, lovers, children) reveals the illusion of the series. The cruxes of historical photography—framing and indexicality—are both twisted into a purely contemporary vision.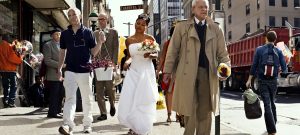 Peter Funch (Denmark, b. 1974)
Smoking Smokers, from the series Babel Tales, 2006
photograph
23 x 50.75 in.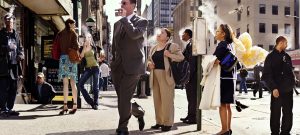 Peter Funch (Denmark, b. 1974)
Juvenile Bliss, from the series Babel Tales, 2007
photograph
23 x 50.75 in.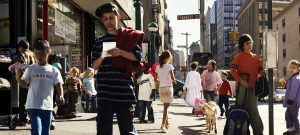 Huang Yan (China, b. 1966)
Face Painting: Plum, Orchid, Bamboo and Chrysanthemum
chromogenic print, in four parts
58.1 x 47.5 in.

Huang's work combines the mediums of body art, painting, and photography to mash up the art genres of figure and landscape. His works honor and update Chinese art traditions while depicting them precariously, as fleeting as the model's next bath.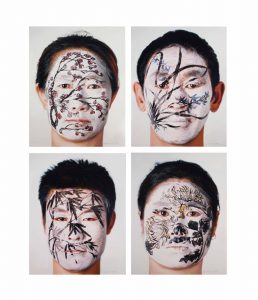 Vee Speers (Australia, b. 1962)
Untitled No. 38, from the series The Birthday Party,2007
dye destruction print
47.25 x 37.75 in.

Speers' series, The Birthday Party, is shot at the eye level of the subject, drawing the viewer into the children's world and the seemingly happy nostalgia of a birthday celebration. However, Speers removes the narrative and visual context that might explain the children's odd expressions and costumes.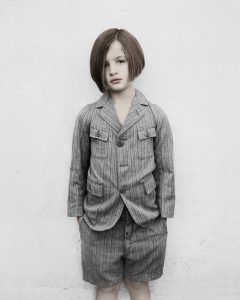 Vee Speers (Australia, b. 1962)
Untitled No. 3, from the series The Birthday Party, 2007
dye destruction print
47.25 x 37.75 in.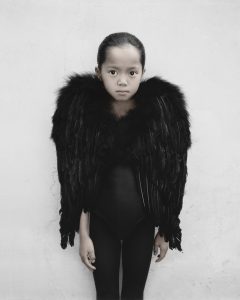 Vee Speers (Australia, b. 1962)
Untitled No. 19, from the series The Birthday Party, 2007
dye destruction print
47.25 x 37.75 in.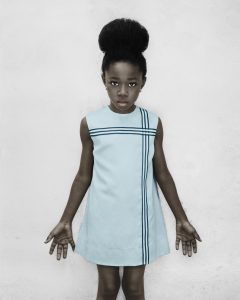 Mary Sue (France, b. 1979)
Universal Art Translator, 2017
single-channel video
variable duration

Secret information has long been used to differentiate group insiders from outsiders. This work translates rarified art concepts and terms into common language for the exhausted gallery visitor. Once everyone can translate artspeak, how will the art world define itself?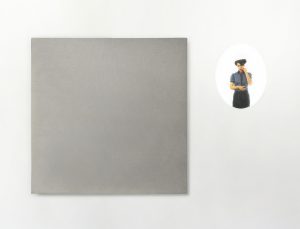 Vik Muniz (Brazil, b. 1961)
Action Painter, from the series Pictures of Chocolate, 1999
color coupler print
48.5 x 48 in.
© 2022 Vik Muniz / Licensed by VAGA at Artists Rights Society

Muniz's photographs re-create iconic art images using unexpected materials like peanut butter, diamonds, dice, or chocolate. Action Painter reproduces Hans Namuth's famous photograph of Jackson Pollock, whose own paintings inspired these splatters of chocolate. Muniz adds a new layer to the history of these images, playfully inserting himself as a self-described "illusionist."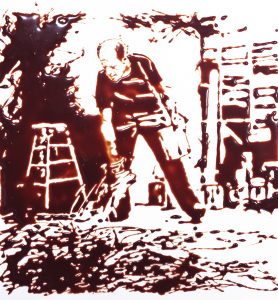 Puck Verkade (Netherlands, b. 1987)
Plague, 2019
single-channel video
4:50 min.
Courtesy of the artist and Dürst Britt & Mayhew, The Hague

Plague employs cinematic techniques, including stop motion, green screen, live action, and montage, to create an environmental allegory told by a fly. Evoking Kafka's The Metamorphosis, this tragically absurd story follows a protagonist who, like poor old Gregor, is mentally unraveling in ways that provoke equal parts pity, mirth, and horror.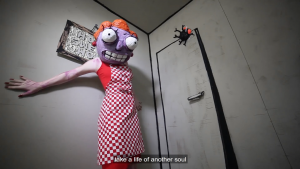 Otobong Nkanga (Nigeria, b. 1974)
Alterscape Stories: Spilling Waste, 2006-11
diptych of pigment prints
44.5 x 89 in. total
Produced by the 1st Bienal de Arquitectura, Arte y Paisaje de Canarias.

The Alterscape series is comprised of dioramas depicting the Nigerian landscape in which the artist performs symbolic actions documented with photographs. Towering over the landscape like a titan, the artist represents a generation that commands god's-eye Google Earth views but sees a landscape scarred by postcolonial legacies and threated by environmental collapse.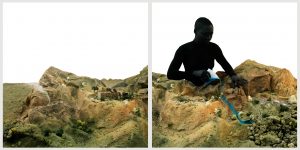 William Kentridge (South Africa, b. 1955)
Anti-Mercator, 2010-11
high-definition film transferred to video
9:45 min.
Image courtesy of the artist

Kentridge's use of playful visual techniques belies his serious subject (a strategy echoed in other video artworks presented here.) In Anti-Mercator (named for the European cartographer, Mercator, who imposed the now-ubiquitous grid onto the world map) Kentridge critiques the use of technologies that measure—but also prescribe and control—our sense of time and space.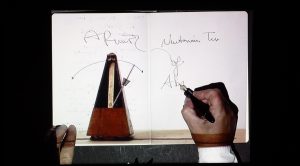 Robin Rhode (South Africa, b. 1976)
Scales, 2015
color coupler prints; 28 parts
14 x 20.5 in. each

Scales might appear to be an objective scientific study of color theory (often represented by three-point triangular spaces.) However, Rhode's ongoing interest in the social echoes of Apartheid in his native South Africa suggests a social allegory behind the work and prompts us to wonder whether color is ever truly neutral.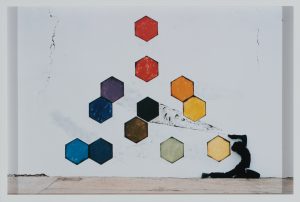 Marilyn Minter
Yellow Sparkle, 2007
color coupler print
39.75 x 60 in.
© Marilyn Minter, Courtesy Regen Projects.

Makeup tutorials created the first YouTube stars and glamor is the affective currency of Instagram influencers. Using historic and contemporary visual languages of fashion and beauty, Minter's images offer critical glamor-memes that are, by contrast, over the top, dirty and messy, and flashy and trashy.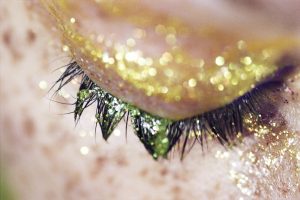 Cyrus Kabiru (Kenya, b. 1984)
Macho Nne (Roman Attire)
photograph: 59 x 47.25 in.
mask: 9.5 W x 5 H x 1 D in.

Kabiru's photographs depict his meticulously crafted sculptural eyewear series, C-Stunners, made from found materials and presented as the focus of his self-portraits. Instead of using the camera to capture sumptuous images for our eyes, Kabiru transforms his own eyes to become a fantastic Afrofuturistic sentinel capturing us in his gaze.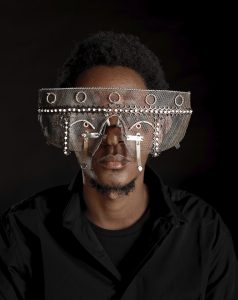 Cyrus Kabiru (Kenya, b. 1984)
Macho Nne (Confusion)
photograph: 59 x 47.25 in.
mask: 9.5 W x 5 H x 1 D in.