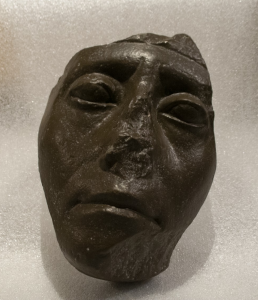 About:
Memento: Museums & Their Dealings with The Dead is unlike any exhibition the Samek Art Museum has ever presented. Consisting of objects from around the world, Memento examines the ethics of history of museum collections, including Bucknell University's own collecting history, by looking at the acquisition of objects from tombs and graves, as an exploitation of death.
Related Events:
Momentary Musings
Thursday, March 31, 7 p.m.
Iron Front Event, 434 Market St. #301, Lewisburg, PA 17837
Presented in collaboration with the Stadler Center for Poetry & Literary Arts.
How does history inform your present reality? Join the Samek Art Museum and the Stadler Center for Poetry & Literary Arts for an evening of poetry, short stories, and personal essay readings. At the Samek Art Museum's Downtown Gallery, enjoy light refreshments and conversations about art and life today.
Exhibition Survey:
Ethics exist on a spectrum; situations or actions existing in varying shades of gray rather than black and white. So, we want to know what you think! Click on the link below to share your thoughts on the exhibition and perspective about the topics discussed in the exhibition!
Curatorial Text:
Death is part of living; it's a natural process and part of the cycle of life… but in death also comes opportunity for others to exploit.
The stories that hide in museum collections are often found in the dark. They whisper secrets from locked cabinets and storage boxes of death, human history, the rising and falling of empires, genocidal atrocities, and social and political upheaval. Academic museums are not excluded from this pattern of collecting. Human remains, culturally sensitive and sacred objects, and more are mined and excavated from graves and ruins from around the globe. Collected in the name of science and the humanities, these objects help us to better understand other cultures and genetic histories. However, when objects are taken under duress or illegally, the dead are exploited for something or someone else's gain.
In examining a collection and finding such objects, it is important for museums to engage with their communities about these self-critical questions:
Why are these things here? How did they get here? Should they be here?
Curated by Sarah N. Hixson, M.A., Samek Art Museum Fellow
Installation Images: