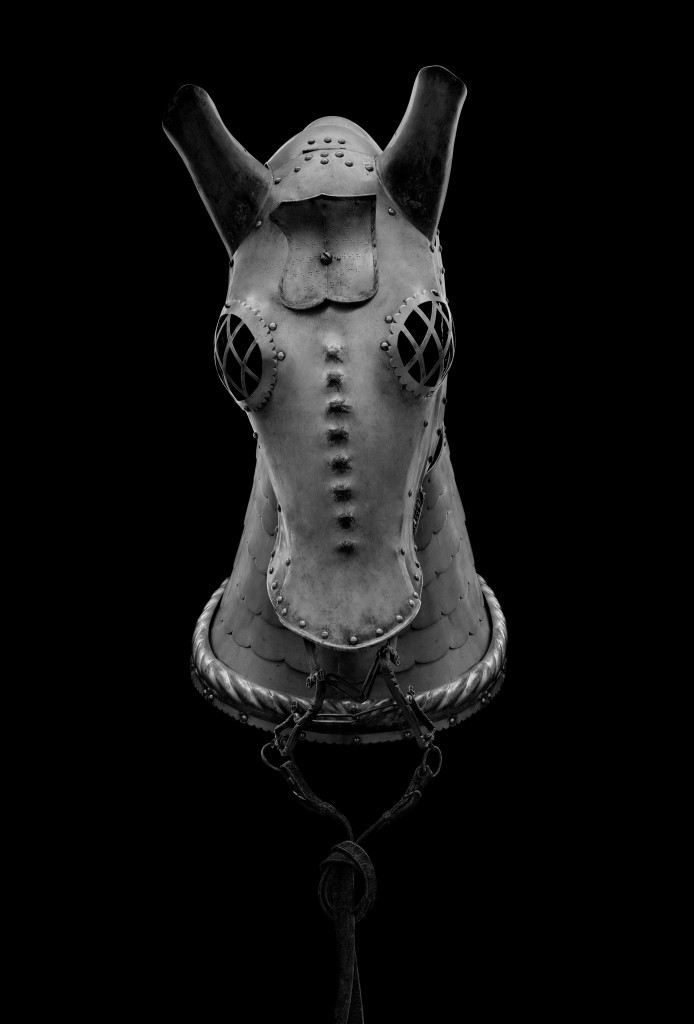 Presenting 13 recent photographs of central PA artist, Stephen Althouse. Althouse was raised Quaker and his large-scale, lushly printed photographs depict Amish tools, Medieval armor, and implements of country living that foreground the aesthetics of use and material memory.
—
Stephen Althouse was raised on a farm in rural Bucks County, Pennsylvania, where he earned a working familiarity with the land, animals, and the tools of farming. He went on to work in a stone quarry, on the railroad, and in concrete construction and road building. It comes as no surprise that, when he pursued his artistic studies and practice, he focused on sculpture – on objects and the human hands that make them. Rather than fabricate new objects that would embody his own labor, he chose to work with found objects that told the stories of others, and this contingency remains a key aspect of his work. Photography became an extension of his sculpture, highlighting the flow of time in an object by attempting to fix it in a moment of light and shadow.
These photographs seem to present objects at a distance, platonic and symbolic, distilling the ding an sich (the essence of the thing unto itself.) The strategies of this distancing include: representing each object through a photograph rather than directly; freezing the history of an object in time; arranging objects ritually rather than functionally; and composing objects against a black void, devoid of context. But such maneuvers are checked by the aforementioned sense of contingency. Each object is carefully selected for its long use and then photographed in a raking light that reveals a patina of scratches or worn and rounded edges as evidence of labor that is as important as the object itself. These objects are selected for their material rather than symbolic function and they are pounded, frayed, and splayed by their devotion to their purpose.
Acknowledging Althouse's practice as a sculptor and to the subject matter within them, the photographs in this exhibition are presented not as disembodied images flatly framed behind the sheen of glass, but as objects themselves. Here the detailed images of bridles, hammers, and wheels float in front of the velvety black printed backgrounds because of contrast that would be nullified by glass that flattens the surface through reflections and unified texture. Here the white linen that gathers and bunches in the images is echoed in the curling white paper of the photographs pushing off the wall toward the viewer.
-Richard Rinehart, Director of the Samek Art Museum
Related Programming:
Salthouse Opening Reception
Friday, January 22, 7pm
Samek Gallery
Join us for refreshments and a bluegrass jam session in honor of the exhibition.
Art in Bars
Wednesday, February 3, 7pm
Elk Creek Cafe, 100 W Main St, Millheim,
Art in Bars returns! We're bringing the museum to the bar to pair beer with artworks from the Samek Art Museum's collection. Learn more about the drinks and art and how they relate to each other from knowledgeable bartenders and Samek staff. Includes photography by Stephen Althouse.
Please note that reservations for the event are recommended, though not required. Call Elk Creek Cafe at 814.349.8850 to make a reservation.
Stephen Althouse Studio Visit
Saturday, February 27, departs 11am, returns to Bucknell by 3pm
Leaves from Elaine Langone Center, Bucknell University
Get a glimpse into Stephen Althouse's studio in Rebersburg, PA with a tour led by the artist. Includes lunch and transportation. Space is limited.
—
Exhibition catalog available for purchase here.
Installation views: